1969 Firebird, 1972-74 Ventura; Idler Arm Assembly
Idler arm assembly for various 1969-74 Pontiac models as listed. This pivoting support for the steering linkage appears on older recirculating ball-type steering systems (pre-rack & pinion) and functions like the pitman arm...
---
1965-73 Mopar C-Body Idler Arm
Restorer's Choice™ premium replacement idler arm for 1965-73 Mopar C-body models. These vital suspension components are commonly worn and in need of replacement. They are often responsible for steering misalignment,...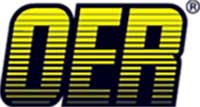 ---