1947-1954 Chevy, GMC Truck; Dropped Axle; 3" Drop
OER Authorized 3" dropped axle for your classic '47-'54 Chevy half-ton pick-up drops the front end of your truck down three full inches. Axle is made of 2" tubing while the ends are CNC milled solid steel. Axles may require...
---
1967 Camaro / Firebird Rear Axle Bumper
Reproduction rear axle bumper mounts on inner wheelhouse on all 1967 Camaro and Firebird models. Attaches to the body to prevent the rear axle from bottoming out. Sold individually. 2 required per vehicle.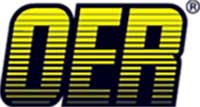 ---
1968-69 Camaro, Firebird; Rear Axle Bumper; Each
Reproduction of the original rear axle bumper for 1968-69 Camaro and Firebird models. This bumper is necessary to keep the your rear axle from hitting the rear frame rails when the rear suspension is fully compressed. For use...
---